Nikola Kojo 
Född 1967 i Belgrad. Han är skådespelare, regissör, producent och har medverkat i hundratals TV program, filmer och teaterföreställningar sedan 1979 i Serbien, hela forna Jugoslavien och internationellt. Bland filmerna minns vi Nikola i roller som tonåringen i en serie komedifilmer Lude godine, följt av filmerna som Flammande byar (Vinnare av Stockholm Film Festival 1996), The Wounds, Parade, och senaste TV programmet Ko je kod Koje.
Den här gången presenterar vi hans första film där han står både som manusförfattare, regissör och producent.
Kom och möt Nikola i
VÄSTERÅS, 1 december- HERD / Stado kl. 18.30
STOCKHOLM SOLNA, 2 december- HERD / Stado kl. 18.00
MALMÖ, 3 december- HERD / Stado kl. 17.00
Herd/Stado kommer vi även visa den ryska filmen om kvinnor som deltog i första världskriget – Батальонъ/Battalion, regissör Dmitry Meskhiev och makedoniska filmen Osloboduvanje na Skopje/The Liberation of Skopje, regissör Rade and Danilo Šerbedžija.
LOKAL:
Västerås, 29 november – 1 december: Serbiska föreningar Sveti Nikola, Källhagsgatan 2.
Stockholm, 2 december: Serbiska föreningen i Solna, Ankdammsgatan 23.
Malmö, 3 december: Kultur och sportföreningen Srbija, Industrigatan 20A.
Festival pass  200 kr
För medlemmar  100 kr
Biljetter betalas vid entré eller via bank-giro 401- 1003. Alla filmer är textade på engelska.
VÄSTERÅS,
29 november – 19:00   Battalion
30 novemebr – 19:00   The Liberation of Skopje
1 december – 18:30   HERD / Stado
STOCKHOLM SOLNA, 2 december
14:00 The Liberation of Skopje
16:00 Battalion
18:00 HERD / Stado
Kvällen fortsätter med 45 årsjubileum av Föreningen i Solna!
MALMÖ, 3 december
15:00 The Liberation of Skopje
17:00 HERD / Stado
19:00 Battalion
Батальонъ/Battalion
Russia 2015, action drama history 124′, Russian with English subtitles
Spring 1917. February revolution has affected mode of life in Russia and changed the course of Great War.  Monarch has abdicated. In trenches, were the confrontation with Germans lasts for several years, Bolsheviki are very active with their propaganda. The army is just near the stage of complete degradation. By order of Russian Provisional Government, attempting to strengthen the spirit, the female "Death Battalion" is established. In charge of the Battalion – Cavalier of St. George Maria Bochkareva.
Director: Dmitry Meskhiev
Production company: Studio "CORNER WORK" in partnership with the "Art Pictures Studio"
Producer: Igor Ugolnikov, Fyodor Bondarchuk and Dmitry Rudovsky
Cast: Maria Aronova, Maria Kozhevnikova, Valeria Shkirando, Alena Kuchkova, Yanina Malinchik, Nikolai Auzin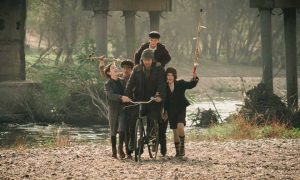 Osloboduvanje na Skopje/The Liberation of Skopje
Macedonia 2016, drama 110′, Macedonian/German/Bulgarian with English subtitles
The occupation and the Red Army's liberation what is now Macedonia's capital, Skopje, during World War II, from German and Bulgarian of what was then a provincial Yugoslav city, is the story of the cruelty of war, poverty and suffering in which young Zoran witnesses his Jewish friend Renata Rossman and her family being taken away to a concentration camp but also knows his Uncle Gjorgija (Rade Serbedzija) is a partisan battling the Nazis.
Director: Rade and Danilo Serbedzija
Production company: Partysans-Macedonia/ Lijeni Film- Croatia MP Film Production-Croatia and Art Films-Finland
Producer: Robert Naskov, Igor A. Nola, Gorjan Tozija, Vladimir Anastasov, Arto Halonen and Danilo Srebedzija
Cast: David Todosovski, Rade Serbedzija, Silvija Stojanovska, Lucija Serbedzija, Nebojsa Glogovac; MIkko Nousiainen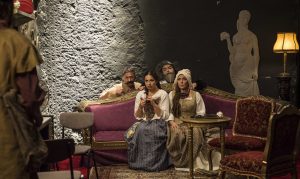 Stado/Herd
Serbia 2016, comedy 100′, Serbian with English subtitles
Herd/Stado är en rolig satirisk komedi om livet bakom kameran. Oftast föregås filmen eller TV dramat av ett större drama. Obotliga entusiaster och omständigheterna äventyrar huvudpersonernas möjlighet att göra bra film. För att få glänsa och briljera på röda mattan vid galapremiären krävs hårt arbete, kompromisser och även ingå i pakt med djävulen, om så skulle behövas. Man kan säga att Herd/Stado är baserat på en sann historia.
Medverkande: Nikola Kojo, Vesna Trivalic, Zoran Cvijanovic, Natasa Ninkovic
All information finns på www.baneff.com eller via tel: 08-221190, eller mail: info@baneff.com
Ses på BaNeFF turné 2017
Med kulturstöd från
Stockholm läns landsting
Svenska Filminstitutet
Stockholm stad
Västerås stad – kulturnämnden
Serbernas Riksförbund med föreningar
Makedoniska Ambassaden i Stockholm
All information finns att få via tel: 08-221190 eller på via mail: info@baneff.com