Balkan New Film Festival – BaNeFF – presenterar de senaste filmerna från Balkan. Biopubliken får möta såväl en spännande blandning av nyproducerat, sverigepremiärer samt intressanta gäster och en rad paneler som diskuterar trender inom filmproduktionen på Balkan. Tillsammans med Svenska Filminstitutet, Stockholmstad, Zita och Kulturhuset i Kungsängen välkomnar vi Dig att fira femte upplaga av filmer skapade på Balkan och som relaterar till Balkan.
Festivalen äger rum mellan 11-14 februari på ZITA, Birger Jarlsgatan 39, med extra visnigen på KULTURHUSET i Kungsängen, mellan 18-21 februari, Furuhällsplan 1b.
Bidragen tävlar i fyra kategorier: bästa film, bästa kvinnliga prestation, publikens pris och festivalens speciella pris. En nyhet för i år är att festivalen avslutas med att introducera det nya BaNeFF documentär och kortfilmerfilmer BaNeFF doc:short.
Samtliga filmer är textade på engelska.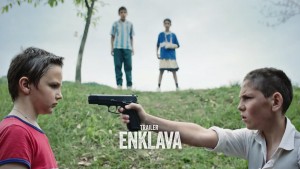 Enklava – Enclave
Director Goran Radovanović, Germany/Serbia 2015, drama 92′ Sebian Albanian with English subtitle
Serbia's nomination for best foreign-language Oscar turns clichés about the bitter civil war in Yugoslavia on their head.
Focused on a tiny Serb community living in a UN-protected enclave in Muslim Kosovo, Enclave – Goran Radovanovic's second feature – looks at the legacy of ethnic cleansing and internecine conflict through the eyes of a small boy, Nenad.
Every day Nenad is taken to school from his father's farm in a KFOR armored car to study alone in a school with no other pupils. Like any other boy of his age, all Nenad wants are some friends his own age. Each day, through narrow observation slits in the military vehicle he sees two Albanian boys and a shepherd boy – who has lost his father in the war and hates Serbs.
The film won an audience award last June after a competition screening at the Moscow International Film Festival and was official selection for International Festivals in India, Moscow, Montreal, HAIFA, Monterey, Antalya. (Source: HollywoodReporter)
Production: Sein+Hain film. NAMA film, ZDF, ARTE film
Producenter: Nico Hain, Mirloslv Mogorovic
Cast: Filip Subarić, Denis Murić, Nebojša Glogovac, Anica Dobra Miodrag Krivokapić, Metodi Jovanovski
Imena višnje/ Ungiven
director Branko Schmidt, Croatia 2014, drama 90′, Croatian with English subtitle
Determined to move on with their life violently interrupted by war several years ago, an elderly couple returns to their restored home. We follow their everyday life through the four seasons. Every day She becomes more absent and lost. Instead of helping her, He acts brutishly, sometimes even cruelly, towards his wife. However, the realisation that something is wrong with Her will make Him question his behaviour and values.
Production: Croatian Radio Television
Producenter: Goran Radman
Cast: Nada Đurevska, Ivo Gregurević, Goran Bogdan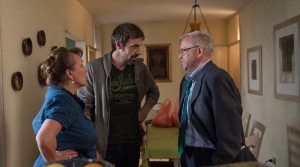 Naša svakodnevna priča/ Our Everyday Life
director Ines Tanovic, Bosnia and Hercegovina 2015, drama 89′, Bosnian with English text
A young war veteran Sasha (40) tries to cope with unsolved political situation and economic hardships of postwar Bosnia, while his father Muhamed (63) cannot give up his socials beliefs in an increasingly corrupt society. Torn by the problems of the two men, the mother Maria (62) falls ill – her illness causing the family to bond again. When the problems started lining up, both, Muhamed and Sasha, realize that it is actually the family that only matters; the last oasis of a man.
production: Dokumnet Sarajevo
producent: Alem Babić
cast: Uliks Fehmiu, Emir Hadžihafizbegović, Jasna Ornela Bery, Maja Izetbegović, Vedrana Seksan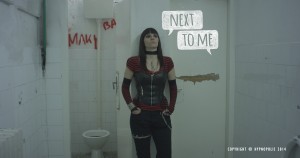 Pored mene/Next to me
director and scenario Stevan Filipovic, Serbia 2015, drama 94′, Serbian with English subtitle
A group of students is forced to spend one winter night in highschool, without their mobile phones or internet access. During that night, a generation that was written off before they were ever given a chance will learn more than they ever expected about themselves and their classmates.
Production Company: HYPNOPOLIS FILM
Producer: Branislav Jevic
Cast: Hristina Popovic, Mirjana Karanovic, Dragan Micanovic, Slaven Doslo, Nikola Glisić, Gorica Regodić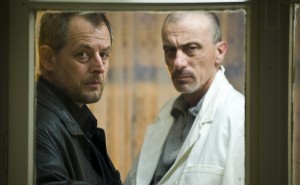 Dossieto Petrov/The Petrov File,
director Georgi Balabanov, Bulgaria 2015, drama 93′, Bulgarian with English subtitle
In the late 1980s, stage actor Alexander Petrov is banned from theatre without any apparent reason. When he reappears, after the demise of the Communist regime, he discovers that he had been denounced by the one man he admired most, his master and friend. An old acquaintance, Markov was a former director of the secret service, who has become a successful businessman. Now, in the mid-1990s, the country is wracked by unretstrained capitalism, along with violence and gang wars. Markov, an admirer of Petrov's stage talents, offers to make him the leader of a new political party aiming at rescuing the country. Can this work? Is Markov the right man to be allied with? Petrov must make a fateful decision.
production: Camera LTD
producent: Alexander Donev
cast: Mihail Bilalov, Hristo Shopov, Georgi Novakov, Anjela Nedyalkova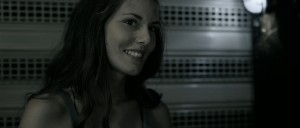 Igra u tami/Darkness
director Jug Radivojevic, Serbia 2015, drama 97′, Serbian with English subtitle
Love story based on motives from short story "Aska and wolf" by our Nobel winner Ivo Andric. Vuk is dabbling in some shady business – sex trafficking. He is cruel and ruthless and he draws Aska in his claws, thanks to the well organized sex trafficking web. With her dance and beauty, Aska manages to incite love and humanity in Vuk, but also a dream of success in show business and better life. For the first time in his life, Vuk feels love which changes him completely.
Producer: Vuk Kostić
Production: INAT Entertainment
Cast: Tamara Dragićević, Viktor Savić, Vuk Kostić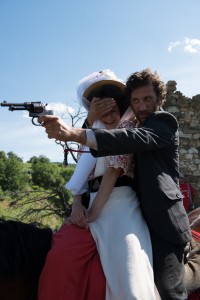 Do Balchak / To the Hilt
director Stole Popov, Macedonia 2015, historical drama action 165′, Macedonian, French, English, Turkish with English subtitle
Macedonia, a small country in the heart of the Balkans, is five hundred years under the Turkish yoke. The action takes place in the bloody post-revolutionary period after 1903, more precisely in the first decade of the 20th century. "To the Hilt" is a love quadrangle between a cruel though romantic rebel, a merciless naturalized Turkish officer, an educated wealthy father's son and a lucid, spoiled but avantgarde European woman who wants to have three of them wrapped around her little finger. The film unveils a harsh though romantic story in which the eternal Macedonian cause for own identity and independence is seen from the angle of illusion and relativity of freedom, justice, love, happiness, sacrifice, frauds and treason. All experienced with catharsis that rises up to the hilt. To be more precise, all of the action is marked with the typical Balkans paradox lifted up to the level of the undisputed philosophical maxima: "Fuck life if you are not ready to die for it".
Production company: Triangle Film, Fx3x, Sector Film
producer: Dancho Chevrevski
cast: Inti Sraj, Martin Jordanovski, Sashko Kocev, Toni Mihajlovski, Miki Manojlovic, Iskra Veterova, Nikola Kojo, Senko Velinov, Nikola Ristanovski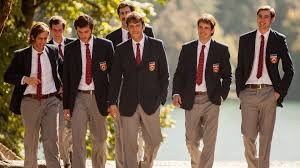 Bicemo prvaci sveta/We Will Be the World Champions
director Darko Bajić, Serbia 2015, family drama 127′, Serbian with English subtitle
The story about the founders of the famous "Yugoslav Basketball School" and the first gold medal at the Championships in Ljubljana in 1970, is based on real events and is dedicated to personalities who have contributed to the emergence and development of basketball in their country.
Production company: Intermedai Network, Kinorama
Producer: Dejan Petrovic, Zvonimir Simunec
Cast: Strahinja Blažić, Aleksandar Radojčić, Miloš Biković, Iva Babić, Katarina Cas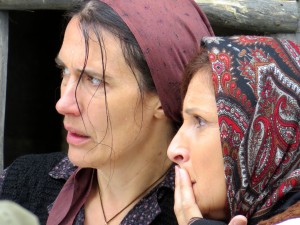 Za Kralja i otadzbinu/For King and Homeland –
Director Rados Bajić, Serbia 2015, drama 90′ Serbian language with English subtitle
The film tells a story of an old Serbian soldier Milisav Janjic, who fought against Germans in the World War II as a member of the movement of Chetniks, beside the general Draza Mihailovic. Combining masterly Milisav's memories and reminiscences of the past and war, with present moments, the author narrates about German attack, April War and breakdown of the Kingdom of Yugoslavia, about the tragedy that hit Serbian people, loss of freedom, beginning of Serbian movements of liberation and one Serbian soldier who returns to his fatherland after 70 years of emigration in USA.
Producer: Nedeljko Bajic,
Production: Contarst studios
Cast: Marko Nikolić, Neda Arnerić, Nebojša Glogovac, Nenad Okanović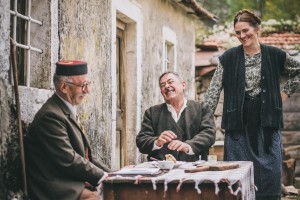 Gorčilo – Jesi li to dosao da me vidis /Gorčilo – Did you come to see me
director Milan Karadžić, Serbia 2015, comedy 92, Serbian-Montenegrin with English subtitle
The set is placed in a small montenegrin village, in the summer of 1968. It was the time of building the essential infrastructure throughout Yugoslavia, and the goal, specificaly in Montenegro, was to connect the poor north to the south of the country.
The village is visited by a land surveyor, with a goal to prepare the necesary documentation for the route of the future road. With him comes along his beautiful wife, Klara, balle dancer from Novi Sad, and she is practicing her routine, because of the audition for the outumn season in theatre. We follow the reactions of the villagers to their arrival, especialy towards Klara, and their willingness to corrupt the surveyor, and do basicaly anything so that the road traspasses their land. And that is only one line of the story.
Production Company: VISION TEAM
Producer: Dragan Đurković
cast: Milutin Karadžić, Boro Stjepanović, Mladen Nelević, Dubravka Drakić, Viktor Savić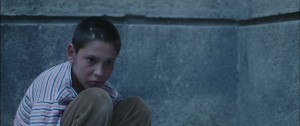 Ničije dete/ No One's Child
director and screenwriter Vuk Ršumović, Serbia 2014, drama 97′, Serbian with English subtitle
In the Spring of 1988 a wild boy is found deep in the Bosnian mountains living amongst wolves. He is randomly given the name Haris and sent to an orphanage in Belgrade to be taken care of by Ilke. He becomes inseparable with another boy Žika and slowly starts to show progress. In 1992, after he became a fairly socialised young man, local authorities force him to go back to war torn Bosnia.
The film "No One's Child" is based on a true story.
"No One's Child is a poignant reflection on the loneliness and innocence of a character during the war", Les Arcs Film Festival's artistic director Frédéric Boyer.
Production Company: Art&Popcorn
Producer: Miroslav Mogorović
Cast: Denis Murić, Pavle Cemerikić, Isidora Janković