BaNeFF DOC:SHORT 2020 AWARDS
BEST SHORT FILM
Quiet/Tiho, 2017 short film, SLOVENIA, 15'06''
Director Barbara Zemljič
Consistent tone. Brilliant acting, beautiful cinematography and a well crafted story with many layers that stays with you for a long time. The theme of the film is embodied in the exquisite performance in an excellent way.
BEST DOCUMNATRY
Long meter
O Yiorgos tou Kedrou/Yiorgos of Kedros, 2020, documentary, Greece, 82'
Director  Yiannis Kolozis, Giorgos Kolozis
A touching, funny, philosophical and poetical odyssey about time and the chase of memory. Beautifully filmed and edited with a high artistic quality.
Medium meter
Koraci/ The Steps, 2019, documentary, Bosnia & Herzegovina, 34'55''
Director Daliborka Bajic
MOTIVERING:
The power of the human spirit. Faced with traumas, death and tragedy, it helps to be a fighter…
Short meter
Pioneer Pizza, 2019, documentary, Kenya, 19'
Director Wesley Shrum
A touching short documentary in which we get to know the characters in a profound way, despite the brevity. The film deals with a deep societal problem but is made accessible in a light hand, by connecting the theme to home made pizza and the Sound of Music.
BEST-ANIMATED SHORT FILM
Minja i klimatske promjene/ Minja and climate change, 2020, short film, Montenagro, 4'37''
Director Zoran Markovic
A well made animated short film that in a comic way addresses a major important issue.  All seen through the eyes of a child, and with a wonderful final dispute that leaves us with a big smile on our face and a hope for the future.
BEST EXPERIMETALL SHORT FILM:
خوابماندگان/Dream Haulers, 2020, short film, Iran, 17'34''
Director Farzaneh Ghaemi
Secret and dreamy, interesting photo and good acting.
BEST WOMEN ACHIEVEMNT:
For team work:  
Kada sam kod kuće/When I'm at Home, 2019, short film, Serbia, 16'
Director Ivana Todorovic
A strong drama with a difficult and nasty theme. The fine acting of the ensemble works convincingly, and the sparse dialogue shows the tension below the surface that threatens to explode.
Actress and producer:
Lizzy's Plan, 2019, short film, USA, 8'05''
DirectorJoshua Lang
MIA RIVERA does a modern day interpretation of American Screwball-comedy.
Her character in the film is a mix of Mae West and a "Kathy Bates on speed" completely with – not so subtle – innuendos and winks to the audience.
A raw performance that does not shy away from the vulgar. A performance that does not want to be "smart and intellectual" but just downright rural and real.
SPECIEL AWARDS:
BEST PRODUCTION DESIGN:
L'Ultimo Whisky con il Cappellaio Matto, 2020, short film, Italy, 15'
Director Nello Petrucci
A modern adaptation of Alice in Wonderland with imaginative and stylish and colorful scenography, costume and mask. The production design reflects the theme of the story perfectly and enhances the fantastic elements in the story.
BEST PHOTO:
Amor Sangue Dor/Love Blood Pain, 2020, short film, Brazil, 11'09''
Director Magnum Borini
"vampyrs confession". Through its nervous and raw imagery, we get an insight into what loneliness can lead us to. A well-made and stylish film that in an exciting way uses colors to tell different emotional stages.

BEST MUSIC DOCUMENTARY/BEST EDITING: 
Music For Ordinary Life Machines, 2019, documentary, Greece, 112'
Director Nikos Chantzis
Music For Ordinary Life Machines is fascinating and interesting documentary about the emergence of minimal synth in the Greek independent scene from the 80's and forward. The editing is rhythmical with a good image selection, which oscillates between old concert footage, footage of synths and modern interviews with the musicians. It is an adventurous journey into a world of synth explorers and pioneers who wanted to go into the untested land of synthetic sound.
BEST SOUND: 
Obrad, 2020, documentary, Montenegro, 15'33''
Director Branislav Milatović
The sound work is exquisite and evokes memories of the forgotten world of papers in a digitalized world. Without dialogue the sonic and acoustics are raised to a higher level. Every sound is crisp and elevated and works well with the photography and Rembrandtian light
BEST YOUTH DRAMA, SHORT FILM: 
Fair Play, 2020, Germany, short film 9'50"
Director Besnik Prekazi
Strong and credible acting by the young actors about a current and frightening topic. The film is a painful representation of how war continues to affect long after it is over.
JURY:
Anders Lennberg – Director
Anna Lönn-Franco – Filmmaker
Bratisav Stankovic – Director of Photography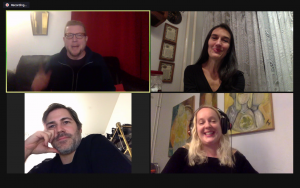 December 21, 2020, Stockholm