BaNeFF doc:short, Kulturhuset Kungsängen, Furuhällsplan 1b
(Pendeltåg mot Bålsta – Kungsängen st. ca 25 min från T-centralen)
21 december 2015
från 10.00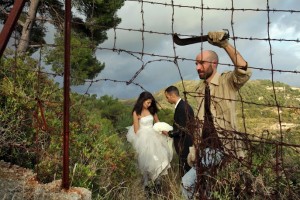 10.00 (98')
ON THE BRIDE SIDE/Io sto con la sposa, documentary 2014, Italy/Palestine 98' Italian, Arabic, Englis language with English text (winner of AlJazeera International Documenatry Film Festival 2015)
A Palestinian poet and an Italian journalist meet five Palestinians and Syrians in Milan who entered Europe via the island of Lampedusa after fleeing the war in Syria. They decide to help them complete their journey to Sweden, and hopefully avoid getting themselves arrested as traffickers, by faking a wedding. Whit a Palestinian friend dressed up as the bride and a dozen Italian and Syrian friends as wedding guests, they cross halfway over Europa on a four-day emotionally charged journey of 3000 kilometers.
Production Company: Gina Films
Directors and producers: Antonio Augugliaro, Gabriele Del Grande, Khaled Soliman Al Nassiry
11.40 BaNeFF doc:short OPENING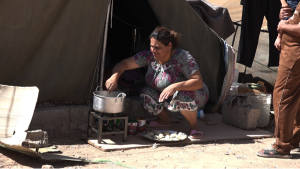 11:50 (116')
NOUN / Noun, documentary 2015, Switzerland, 25', Arabic with English text
The film "Noun" depicts the suffering of Christian Iraqis at the hands of ISIS. It contains first-hand accounts of terrible atrocities, while revealing the courage of survivors, as well as their hopes and uncertainties about the future.
Director: Aida Schlaepfer
Producers: Minority Rights Group International & da Production
DIARY OF A WAR SURGEON / Dnevnik ratnog hirurga, documentary 2012, Bosnien and Hercegovina – Republika Srpska, 30', Serbian with English text
The documentary is based on "Diary of a War Surgeon" book of Dr. Miodrag Lazic. The Film is his testimony about superhuman combat health workers to save lifes of wounded in the hospital named "Wire" in the Blazuj. The film is tribute to health workers, professionals in general ,those who remain in shadow in every war. Little or nothing is known about the hell these characters undergo.
Scenario and directing: Sinisa Grabez
Producer: Aleksandar Sevic, RTRS – RadioTelevision of Republika Srpska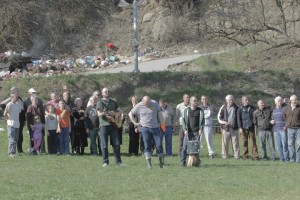 IN BETWEEN / Između rijeke i ljudi, documentary 2012, Montenegro, 61′ min, Serbian with English text
'In Between' is a documentary about locals from a village 'Beranselo' in Montenegro, who want to stop waste disposal at an illegal waste dumping, in spite of the state and local government.
On 15 sources of drinking water,only a few hundred meters from the internationally protected river Lim, in a village after which the town is named, the State and local government have made an illegal landfill. It makes life impossible for villagers because it poisonous air, water, land and lives. Striking fact is the sharp rise in the mortality rate of occurrence of landfill. The documentary focuses on a chronological events and fight of locals against further delay on the mentioned landfill.
Scenario, Produced and Directed : Mladen Ivanović
PAUS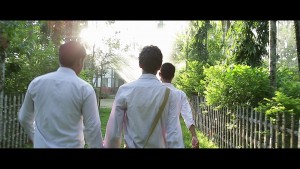 14.00 (100')
ONE LAST QUESTION, short film 2014, India, 30', original language with English text (winner of Prvi kadar East Sarajevo)
Inspired from a true story in 1998 from a blog titled, 'Agia to Oxford'. Four friends; Tultul (the protagonist), Senga, Shamim & Podum in the State of Assam in India are influenced to join the militant outfit of ULFA. Inspired to die for Assam in order to give freedom to their state from India and also as a way to get away from their existing emotional traumas, they decide to join the outfit. Tultul's father (played by Life of Pie famed actor, Adil Hussain) is of opposite view, believing that Assam can be taken to progress through peaceful ways, just as Mahatma Gandhi did. The story evolves as the four friends turn from innocence to violence and are self imposed to decide their own future.
Director, scenario and producer: Prathamesh KriSang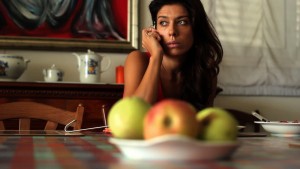 THE COVER STORY/Naslovnica, documentary 2014, Croatia, 55′, Croatian with English text (winner of Prvi kadar East Sarajevo)
In 2013, Croatia has entered the fifth year of recession, with unemployment of 20 percent. It joined the European Union, but at the same year conservative activists banned gay marriages there. Despite all this events, the most popular news in 2013, according to Croatian online portals, was the tragic death of Dolores Lambasa. The young actress wanted to be liked by public, but wasn't successful in her efforts. Everyone loved to hate her. The documentary observes the final year of the young actress's life and her intense relationship with the media.
Director and scenario: Silvana Mendjusic
Production company: Studio dim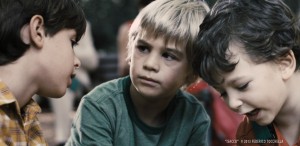 ISAAC/Isaac, short film 2013, Italy, 15' Italian with English text (winner of Prvi kadar East Sarajevo)
A child is in the park playing with his plasticine figures that he modeled himself. His favorite character is Isaac. Isaac is a little boy just like he is who dreams hopes and confides in the world. Isaac is happy because this is the day he will accompany his father on the mountains to help him out. Isaac's father is named Abraham. The story the child is staging is "Isaac's Sacrifice".
Director, producer and scenario: Federico Tocchella
PAUS
15.50 (138')
BARON VRANGEL/Baron Vrangel, documentary 2013, Serbia 53', Serbian with English text
The documentary His Excellency Baron Wrangel is a life story about the fate of the last Commander of the Russian anti-Bolshevik White Army. A highly educated descent of Baltic German nobility, General Pyotr Nikolayevich Wrangel was ultimately loyal to the Russian Emperor and his Fatherland.
A soldier by his own will, a nobleman, a veteran from the Russian war against Japan and a veteran of the WWI, where he stood out for both bravery and commanding skills, he became the leader of the volunteer-army. The so-called "Whites" fought against the growing army of Bolsheviks. At the end, after the death of Lavr Kornyilov and admiral Kolchak and the resignation of General Denikin, General Wrangel became the Commander of the remaining White Army in Crimea.
After battles that lasted for several months it became clear that retreat was inevitable, General Vrangel organized the "Crimean Evacuation". Nearly 150,000 people abandoned Russia. A large number of these people, led by General Wrangel, found their way to our country. This is where one of the most interesting stories of our modern history, the history of the 20th century – begins.
Throughout the perennial stay of baron Wrangel in our country the documentary shows the destiny of the Russian immigrant community in the Kingdom of Serbians, Croatians and Slovenians in 1920s.
Director: Boško Milosavljević
Production company: LHS studio
Producer: Milan Kićevac
MOUSSE/Mousse, short film 2013, Sweden 41', Swedish/French with English text (winner of Prvi kadar East Sarajevo)
What could be easier than robbing a small bookie place on the outskirts of town? It's during the year's biggest horse race event and the betting center Washington's Tobacco looks like the ultimate hit for some fast cash. Mousse is a man of pride and principles and is fed up with living as a second-class citizen. But what happens when he faces principles different to his own?
Director, scenario: John Hellberg
Producer: Kjell Åhlund/Fredrik Bjelke
Production company: Randolph Scott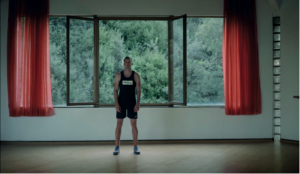 A MATTER OF WILL /Biserna obala, short film 2015, Montenegro 24' original
language with English text
Summer is hot and days are long… Never longer if you are in a weight loss camp for children. The camp is located in a seaside resort, far from a city, and it's been led by a man known as the Instructor. He is preparing the choreography with the children, which will celebrate the finale of the programme. The story of disharmony, of a society that lives in the hazy hope that things will change, witnessing that everything just repeats endlessly.
Winner of Sarajevo Film Festival 2015, Short film category.
Screenwriter and director: Dušan Kasalica
Production company: Cut-Up Production
Producer: Jelena Miseljić
WHILE THEY WERE FLYING TO THE MOON /Dok su oni leteli na mesec, short film 2015, Serbia 20', Serbian with English text
Belgrade/Yugoslavia, July 20, 1969, the day when Apollo 11 landed on the Moon. The city is deserted; everybody hypnotically watches TV transmission, except He and She, who are overwhelmed by mutual rapprochement.
Director, scenario and producer Borisa Simovic
Production company: Korak film, TS Production
PAUS
18.20 (101')
THE CHILDREN/Djeca, documenatry 2015, Bosnia and Hercegovina, Republika Srpska, 82' Serbian with English text,
This film records the fate of four parents who lost three children during the war in Bosnia. This untold story, which will break the hearts of all, sends one of the strongest anti-war messages from Modern Europe. The film, which in an unusually authentic way, documents the limits of human endurance puts the parents in the epicente.
Director: Denis Bojic
Production company: RTRS, RadioTelevision of Republika Srpska
Producer: Aleksandar Djordjevic
SOUVENIR/Suvenir, documentary (retrospective) 1998, Bosnia and Hercegovina, Republika Srpska, 19' Serbian with English subtitle
The participation of the international forces in the civil war in Bosnia and Herzegovina (1992 – 1995) frequently created certain absurd situations. The "Souvenir" film describes one of such situations. During the NATO bombing of the Serb positions around Sarajevo, an aerial bomb was lodged in the foundations of the Elez family house in Sarajevo's Serb suburb called Hadzici. The film follows a process of taking the bomb out of the foundations that lasted for days, and its subsequent destruction.
Director: Milovan Pandurović
Production 'Srna film' Pale
PAUS
20:20 (90')
MY NAME IS SALT/My Name Is Salt, documentary 2013, India/Switzerland 58', Hindi language with English subtitle (winner of AlJazeera International Documenatry Film Festival 2015)
Year after year, for an endless eight months, thousands of families move to a desert in India to extract salt from the burning earth. Every monsoon their salt fields are washed away, as the desert turns into sea. And still they return, striving to make the whitest salt in the world.
Director: Ferida Pacha
Production: Magnetfilm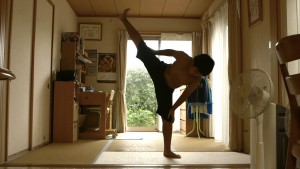 CHIKARA – The Sumo Wrestler's Son, documentary 2013, Denmark 32', Japanese language with English text (winner of AlJazeera International Documenatry Film Festival 2015)
"Chikara – The Sumo Wrestler's Son" follows the 10-year- old Japanese boy Chikara and his struggle to become a sumo wrestler. His father, Harumitsu, was a professional sumo wrestler from one of Tokyo's most successful sumo club, so expectations surrounding Chikara are extremely high. Today his father owns a noodle shop where he works a lot. Their only time together is when they train sumo wrestling. Chikara wants to impress his father, but when he's there Chikara get's really nervous and everything seems to go wrong. The annual national Sumo Championship is approaching and it means everything to Chikara to do well, so his father will be proud of him.
Production Company: Final Cut for Real, Story, Sant & Usant
Producer: Monica Hellström